Representative Ilhan Omar, a progressive Democrat, believes Tara Reade's claims that Joe Biden sexually assaulted her in 1993. Despite these beliefs, Omar stated she will support Biden in the upcoming presidential election to prevent Trump's re-election.
Omar conveyed her perspective to the British publication, Sunday Times, saying, "Justice can be delayed, but it should never be denied." Biden has consistently refuted Reade's claims, even mentioning in an MSNBC interview that if people believe Reade, they "probably shouldn't vote for me."
On Twitter, Omar emphasized her commitment to survivors and her intention to vote for Biden to challenge Trump. Meanwhile, Tara Reade faces credibility issues. Her lawyer, Douglas Wigdor, who represented victims of notable figures like Harvey Weinstein, has terminated their representation of her.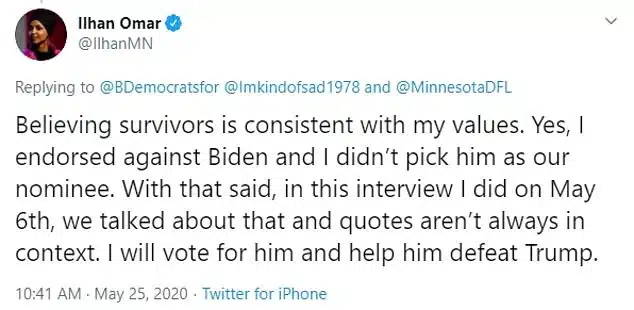 In a 2018 case, Reade claimed her work with Biden's staff as a qualification, assisting in a life sentence conviction for a client.